Tips For Hiring The Best Wedding Catering Service Provider
Getting married is a wonderful feeling altogether, and if you are the one whose marriage is on the cards, then a lot of preparations need to be done before your D-day.
Getting married is a wonderful feeling altogether, and if you are the one whose marriage is on the cards, then a lot of preparations need to be done before your D-day. Well, nowadays there is a trend of booking full wedding packages by hiring wedding planners. Many couples opt for these packages as per their budget as it sets them free from all the stress and burdens, and they can fully enjoy their wedding moments.
However, many couples don't go for full wedding packages, and they prefer to arrange all the vendors by themselves. This includes hiring wedding catering service providers also. It is a well-known fact that food is the key attraction of a wedding.
Catering service is one of the most important segments of your wedding preparations and to make it best your choice of caterer needs to be of top-notch quality. And if you are finding it difficult to hire a caterer for your wedding, then this article is for you. Here, we have shared a few tips on how to hire the best wedding catering service providers.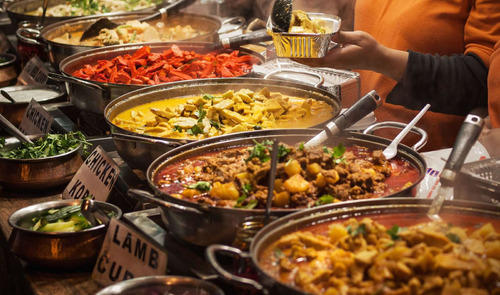 Decide your catering budget
To begin with, you must first decide your budget. You can get as extravagant as you want or pinch the budget. When you hire a catering company, you can discuss with them about your budget and requirement and based on it; they would be able to suggest a good and filling menu. Make a list of a few wedding catering service providers that fall within your budget. Then begin your search from them.
For recommendations, you can take help from your close circles like friends, neighbours, family relatives and colleagues also. Your close-knit circle can suggest you some good and reliable names. Besides, you can also do an online search and find out n number of wedding caterers. From there you can visit their website and get more details about their services. This will help you to narrow down your list by cutting out those names that don't fulfil your requirements.
Meet in person with the caterer
While hunting for the best wedding catering service provider, do not just rely on online reviews or references. Try to fix an appointment and meet the caterer in person. This will allow you to know more about their services and whether they carry professional behaviour or not.
There are numbers of wedding caterers out there, so don't just finalize the one you come across first. Try to explore a few wedding catering service providers by taking estimates from them. This will help you to compare and contrast their services, food menus and cost so that you can finalize the one that suits you best.
Confirm liquor arrangement also
If your wedding event is going to include liquor service, then you need to confirm the liquor price also from the caterer. If you find it expensive then you have to arrange liquor from elsewhere. Also, ask them if they provide bartenders or not, else you need to arrange that too from outside. All these small things are very crucial in making your event a blast.
Don't hire an overbooked caterer
If you observe that the wedding caterer you are planning to hire is already booked for some other event, then don't hire him. There is a high chance that they won't be able to pay proper attention to your event. Quality of food and services will get affected, which will ultimately disappoint you and your guests as well. So, say a big NO to overbooked caterers.
Before hiring any wedding catering service provider do consider the menu options they provide and also confirm what are their specialties. Make sure that the caterer matches your needs and is suitable for your event.
In the end, you must go for the taste test to get to know if the catering company is good enough to provide you with the right options. Keep these tips in, mind, and you won't go wrong in your selection process.