'The negative banter was a mirage,' says Karan Johar about the hate Bollywood received: 'It was all virtual.'
Karan Johar returns on screens with the new season of Koffee With Karan Season 7. The new season kickstarts with beloved Bollywood movie megastars Alia Bhatt and Ranveer Singh on the couch, getting candid with Karan Johar. The conversations are no holds barred, as the trio touch upon celebrity relationship trajectories, supporting their partners and their lives after marrying the love of their lives. Ahead of the episode, Karan did several media interactions where he talked about the much hype around the show over the years and whether he planned to not come back with the show since it was embroiled in several controversies.
Read Also: A new report quakes rumors that Karan Johar's birthday party was called the 'Covid-19 hotspot' after celebs tested positive.docx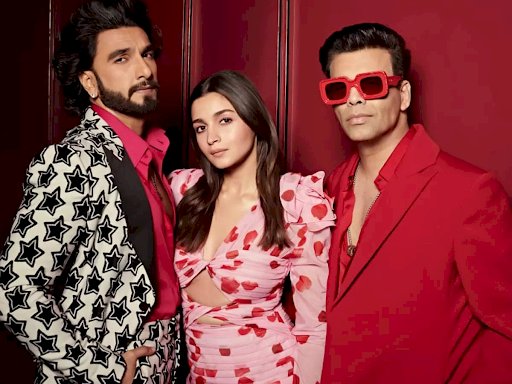 "There was a lot of social media hate generally towards Bollywood at one point and 'Koffee with Karan' popped up as one of the targets… But I knew even then that this is all virtual, it's not real. It's not really the truth because had it been why would Disney+ Hotstar want to do the show? Why would actors want to come on the show? Why would I be still interested in doing it? I think we were all aligned. And that's why we realized that all that negative banter was just that — it was a mirage. It didn't really exist. None at all," Johar told PTI.
"How can you suddenly start hating Bollywood, something you have loved for over 100 years?" the filmmaker asked. "And then there were movies that started doing phenomenally well. You realize that people were watching television and films. They came back when they really wanted to. When that was happening, then what hate?"
"You can only hate when you're feeling miserable yourself or you are a hater. From Bollywood to bananas, you can hate everything. But at the end of the day, that hate is not a real feeling. It's just coming out of people's frustrations and anger. I just hope those nameless and faceless people, who troll and spread negativity, realize that it all comes back to them, to bite them, not us," the director added.