The Heavenly Match of IoT and Agriculture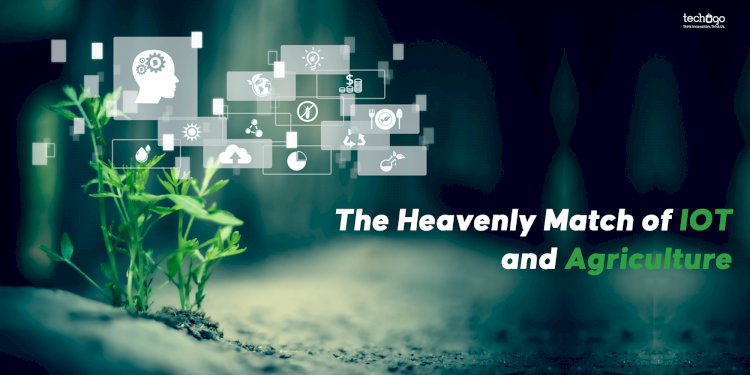 Do you use a smartwatch to track your number of steps in a day?
Do you ask Alexa or Siri to play your favorite tunes?
If yes, you're already familiar with the ways IoT works; however, if you're looking forward to learning a different angle on the mechanism of the same, this article will purely focus on IoT in agriculture.
Are you surprised about the use of IoT in an industry like farming? Don't be because, just like any other industry, agriculture has also adopted new techniques and trends and has become smart farming.
Before digging deep into the pool of information about how IoT is contributing to the agricultural sector, you must know what exactly the 'Internet of Things' is.
TAKE A LOOK!
Get Familiar with IoT
To explain it in the simplest method possible, IoT is just internet controlling things. Any smart device you see that sends data over a network is an IoT device.
Undoubtedly, the population is growing at a rapid pace, and thus, the agriculture industry must meet the rising demand. Therefore, it is evident that the industry needs to adopt new technologies to meet the growing needs.
Here's when smart farming has a role to play, which will raise operational efficiency, cut down expenses, reduce wastage, and improve the overall quality.
But, what is smart farming?
Smart farming is a high-tech mechanism for growing food. When there's an IoT application in smart farming, a framework is built for surveying the crop using sensors, such as light, temperature, soil moisture, etc., and automated irrigation. Additionally, farmers can keep a check on the field condition from anywhere they want.
What's more? It can offer exceptional benefits, which include efficient water usage, scalation of inputs, etc.
Contribution of IoT in Farming
1. Agricultural Drones
The fact is not hidden that technology has revolutionized over time and agricultural drones are one massive example of the same.
Did you ever think of drones being used in agriculture?
Drones are being used to improve numerous agricultural practices like crop health imaging, saves ample time, integrated GIS mapping, and much more. Undoubtedly, if accurate strategies are built using real-time data, there's nothing that can stop the agricultural sector from enhancing.
PrecisionHawk is an organization using drones to determine valuable data using sensors that are also used for imaging, surveying, and mapping.
2. Precision Farming
Precision farming, as the name suggests, is a precise or accurate farming practice, when growing crops and raising livestock is considered. A few technologies that characterize the precision agriculture trend are mobile devices, high-speed internet, low-cost satellites, and more.
When talking about the most popular IoT application in the agriculture sector, precision farming or precision agriculture tops the list. Therefore, an important example of this kind of farming is CropMetrics, which focuses on ultra-modern agronomic solutions along with specialization in the management of precision irrigation.
3. Smart Greenhouses
For all those unfamiliar with greenhouse farming, it is a technique that helps in improving the yield of crops. Greenhouse regulates the environmental parameters using the manual intervention. However, a smart greenhouse that incorporates IoT holds the potential to monitor and control the climate, eliminating any manual intervention.
Additionally, to keep the environment in a smart greenhouse under control, sensors that are used to determine the environmental parameters can be utilized. A cloud server can also be developed to remotely access the system when connected to the Internet of Things. Therefore, it'll evict the need for manual tracking.
4. Livestock Monitoring
You'll be intrigued to know that farm owners can use wireless IoT applications to figure out information such as the location and health of their cattle. This technique will efficiently help in identifying livestock that is sick so that the disease or infection could be prevented from spreading.
Furthermore, it eliminates the labor cost as ranchers because of the availability of IoT sensors.
How?
Well, it is because the cattle can be located using location-based IoT sensors.
To give an example, JMB North America is an organization that has enabled cow monitoring solutions.
To Sum Up
From the above-mentioned information, it is clear that IoT is playing a tremendous role and is contributing exceptionally in the agricultural sector to collect meaningful data. Whether large landowners or small farmers, everyone must understand the potential IoT has got to offer and equip the same into their farming practices. When used in a prosperous manner, the increasing demand can be easily met by the farmers and ranchers.
Are you intrigued by the idea of introduction of tech in agriculture? If yes, comment below the practices followed by you that have added up to your advantage.
Also, for more information, stay tuned to this space!