How Can RPA Integrated AI Solutions Benefit Businesses?
The blend of AI Software and Robotic Process Automation has given boots to businesses from employee, customer, and workflow perspectives and a chance for an intelligent transformation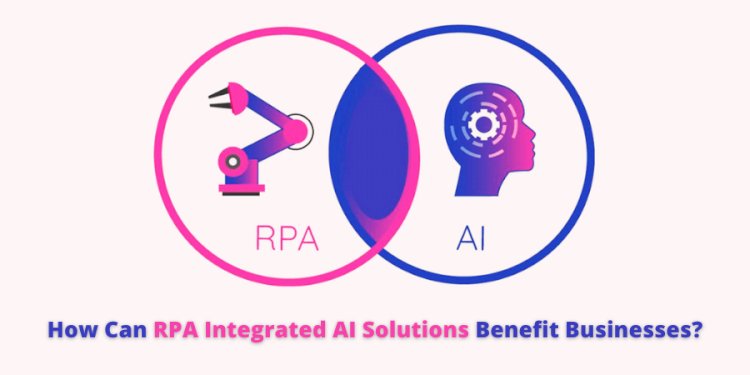 How Can RPA Integrated AI Solutions Benefit Businesses?
The digital world never fails to surprise users. Developers keep coming up with out-of-the-box ideas that can support multiple industries to create a healthier space for a strong workflow model. Robotic Process Automation(RPA) and Artificial Intelligence(AI) are two of the best examples that continue to gather attention separately and as a merged system. Just imagine robots accomplishing different jobs using their brain! Integrated RPA and AI Solutions have changed how each business unit used to coexist while functioning together.
The blend of AI Software and Robotic Process Automation has given boots to businesses from employee, customer, and workflow perspectives and a chance for an intelligent transformation. This technology furnishes different business models by overcoming their challenges.
This article will explore details on Intelligent Automation and how integrated RPA and AI Solutions benefit your firm.


How Does RPA And AI Solutions Work Together?


Robotic Process Automation(RPA) are software robots or bots designed to take over tedious, repetitive, and wearisome manual tasks, which are rule-based processes to ensure productivity, efficiency, accuracy, and scalability.
On the other hand, Artificial Intelligence(AI) is a machine learning technology that processes intensified human intelligence in the form of machines and software to fulfill specific goals.
Intelligent Automation is an innovative combination of RPA and AI solutions that provides the best of both advancements. RPA is programmed to do what the user has told, whereas AI Solutions can rapidly grasp the situation and lead Robotic Process Automation to do the needful tasks. As a result, Intelligent Automation can synchronize business workflow with the front and back office and function simultaneously, generating efficient, more outstanding results.
What Are The Advantages Of Integrating RPA And AI Solutions?
Of course, machine forces with unwavering intelligence produce a great workplace model with necessary human interaction, bringing multiple benefits to businesses. These are the top ten improvements of RPA and AI Solutions integrated systems.
Quick & Adequate Customer Interactions: Integrated RPA and AI solutions offer faster and more impactful Autobot services such as instant chatbox, suggestions, personalized assistance, etc. Higher customer satisfaction leads to better sales and revenues. Moreover, AI software direct engagement customers can help them understand the market's flow and nature. Keeping that in mind, businesses can develop better products and services.


Coordinated Workflow Model: Intelligent Automation helps efficiently incorporate an organization's systems, software, and tasks to create a robust workflow system. Robotic Process Automation(RPA) mainly deals with mundane tasks, and AI software deals with complicated management-file work. Therefore, the resulting situation gives cost-effective outcomes where firms collect accurate results and profits. Plus, such an active workflow model generates a much better communication space for everyone.


Massive Data Assembly: Artificial Intelligence-based systems can gather information from multiple platforms in various forms. Hence, Robotic Process Automation(RPA) is busy performing rule-based operations, and Artificial Intelligence accumulates necessary data for businesses. In addition, running an RPA and AI-integrated company is smoother because every tiny detail plays a huge role in making crucial successful decisions as every business functionalities are interconnected in this digital era.


Human Error Extinction: Federal News Network mentions that using Intelligent Automation reduces errors and improves mission outcomes by 60.32%. Robotic Process Automation(RPA) and AI solutions can conduct monotonous jobs without making mistakes at a much faster pace and still maintain the dignity of the final product. So, it is self-explanatory that RPA and AI integrated systems can conduct multiple activities with more admirable quality and quantity than humans.


Widen Horizons: AI and RPA software tend to produce a flawless workflow masterpiece that can absorb new trends easily and use them to escalate execution levels. Employees and employers overlook different processes in such situations, allowing them to focus on creative value-added factors. Moreover, owners can plan for further investments and capitalize on funds as a safety net.


Swift & Quality Results: Robotic Process Automation(RPA) and Artificial Intelligence(AI) can briskly learn demand and supply in the market from real-time data. According to the customer requirement, Intelligent Automation can amplify production scale and meet market expectations. Manufacturing units, companies with huge inventories, supply chains, and warehouses can make the best of intelligent Automation. Significantly, when it comes to holiday and festival seasons, firms can optimize the adaptability of integrated RPA Solutions and AI Software.


Predictive Analysis: The mixed force of AI Software and RPA Solutions piles up a massive amount of data on the market and analyzes it for better marketing strategies and advertising champions for the business. Also, a company's internal data can guide management for budget cuts, marketplace, competitors' workflow model and tactics, etc., which are essential to decide a company's business drive.


Making Informed Decision: RPA Solution can handle menial jobs with the help of AI Software and give employees a stress-free environment to work in. Having said that, when such a well-coded system gets involved in high-demanding tasks, it offers great help to employees to elevate their decision-making and analytical power.


Assured ROI: Organizations investing in Intelligent Automation can attain upto 200% or more ROI. Cost-effectiveness in market engagement, customer & employee satisfaction, cost-cutting, etc., leaves surplus profit margins. Also, integrated RPA and AI Solutions are responsible for mending and raising businesses' resilience due to the enlarged performance level.


Secured Workflows: Hi-tech technology such as integrated RPA and AI solutions are sharp in recognizing intruders. In many cases, integrated RPA and AI solutions intimate the users about trespassers and hackers so they can take needed actions. Therefore, Intelligent Automation is smart enough to create firewalls to secure data and confidential details when scammers or fraudsters invade to leak or misuse necessary business documentation.

Wrapping Up
A recent report stated that the market for Intelligent Automation is estimated to make $13.6 billion in 2022, with a CAGR of 13.8% expected to cross $25.9 billion by the end of 2027. The report also includes that manufacturing, life sciences, and health care industries will increase more than 50% RPA and AI Solutions integrated systems.
Undoubtedly, the combination of RPA and AI technology expands the elasticity of organizations.