Choosing the Right Armalite Upper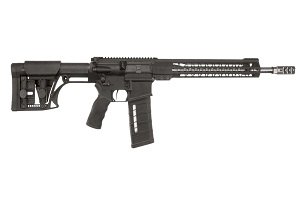 Since the Army adopted the M16, the AR-15 has been one of the most popular guns available to private owners. With the prevalence of the AR-15, the number of upper receivers and other components available for custom builds is practically limitless. With so many brands manufacturing these products, many producers have developed special features to make their products stand out. To find the best Armalite upper for your firearm, you need to consider a few important design factors.
The first factor when choosing an AR upper is whether you want your setup to have a flat top or a carry handle. Carry handle uppers, unsurprisingly, feature a handle like structure on top. Though it might be tempting to carry your firearm from this handle, it doubles as your rear sight so it's best to avoid using it to lift your gun. The most common AR upper option is the flat top upper. These uppers feature a flattened top section with a rail system for accessory attachment. Because you can use the rails to attach a carry handle to a flat top upper, these are a great option if you can't decide which to choose.
When it comes to rails, there are a few options to consider. The three most popular rail systems are Picatinny, M-LOK, and KeyMod. KeyMod and M-LOK rails are relatively new rail systems, with production beginning in 2012 and 2014 respectively. The Picatinny rail is by far the most commonly used option, having been developed in 1992. For this reason, you are unlikely to find an upper receiver that features anything other than Picatinny rails.
If you plan to use KeyMod or M-Lok accessories with your firearm, you might want to consider an option with a carry handle. For users that don't enjoy the carry handle, plan to purchase Picatinny accessories if you wish to attach anything to your upper receiver.
How your upper is made will also affect its performance. There are three main techniques for constructing upper receivers: Forged, Billet, and Cast. Forged uppers are created by hammering metal into the correct shape. Once the desired shape is achieved, the piece is finished with a CNC. This method will produce the strongest grain pattern in the metal.
Billet uppers are also cut with a CNC machine, but the upper is cut from a solid block of Aluminum. Because the metal is not forged into a rough shape first, the internal grain pattern will not follow the shape of the upper. It's the difference between cutting a 2X4 into the shape of a branch versus an actual branch. The fake branch won't have a continuous grain along its length and will snap easily when bent.
The final option to consider is a cast upper. These uppers are made by pouring molten metal into a mold and then finishing it with a CNC. These uppers are often lightweight but have the least internal strength of all the options. The final option to consider is the assembly level. Uppers come in two options: stripped and complete. A stripped upper is just a chunk of metal and is not a usable component yet. A complete upper has a few more components attached to make it fully functional. Choosing between these two options is really up to the end user. If you enjoy assembling your components, stripped receivers are a great option. If you want your part functional out of the box, look for complete uppers.
If you need a new Armalite upper for your build, be sure you know what to look for. If you need to find a great deal on your next upper receiver, visit G4G Guns to find an amazing selection of parts for your next build. For more information about Ams Bowfishing Combo Kit and Boker Products For Sale Please visit : G4G Guns.