5 Web Development Practices for your Business
It is no secret that technology is essential to our daily lives, and web development will be a required talent for developing online initiatives in 2022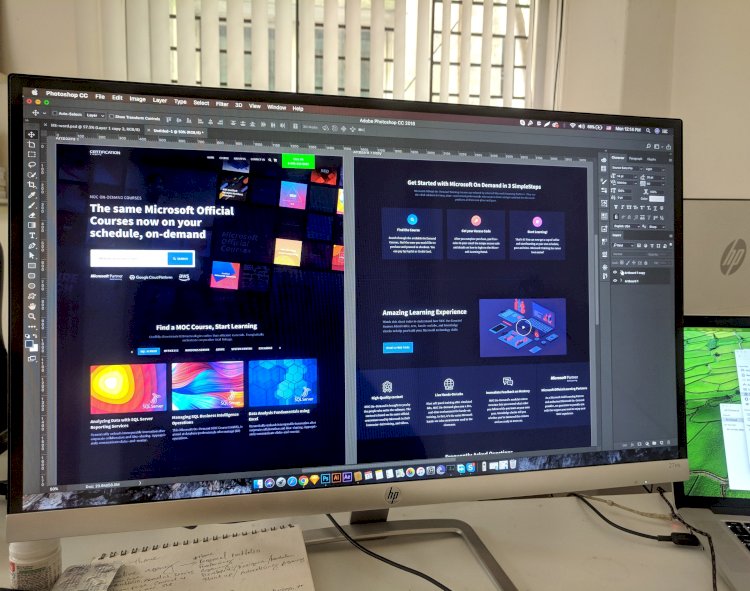 In today's fast-paced world, web development is always developing and evolving. It is no secret that technology is essential to our daily lives, and web development will be a required talent for developing online initiatives in 2022. To improve your consumer engagement, we'll share 5 recommended practices for web development in 2022 in today's post.
1. Create a design that is appropriate for your company
Everyone knows not to judge a book by its cover, but that doesn't stop most people from doing so when it comes to a company's website. The way people view your business and the quality of your services is heavily influenced by the design of your website.
Maintaining your existing brand on your website may go a long way toward establishing confidence with visitors. You want people to come to your site and think of your company right away. A basic and modern design is frequently the greatest option from there. Busy designs might draw readers' attention away from your content, reducing their chances of converting.
You should also ensure that the design of your site is consistent throughout. This will provide the site a unified look and feel, as well as a favorable user experience.
Other strategies to improve your site's aesthetic include including eye-catching photographs and videos, focusing on readability, and establishing prominent CTAs, depending on your company's identity and goals. Your site's design may influence how people engage with it and what actions they take, so keep that in mind while you hammer out the intricacies of each page.
2. Select a navigation system that is straightforward to use
Users should be able to discover the information they need on your site quickly and simply. They're unlikely to convert if they can't get the information they need to make an informed decision.
This means that navigation is crucial to your success, and it should be as straightforward and well-organized as possible. In the majority of situations, this entails placing a horizontal navigation bar across the top of the page with simple categories.
Simple headers should be used to separate your navigation into product types, services, locations, or any other logical category type that makes sense for your company. If more categories are needed, you can utilize dropdown menus underneath those titles.
Make sure your categories are appropriately ordered so that consumers can quickly decide which one has the information they want. Consider how you would search for information about a certain product or service if you were in your audience's shoes.
In your footer, you may also provide useful links. People should be able to contemplate browsing when they reach the bottom of a page. This eliminates the need for them to scroll up and down in order to access information.
Users will stay on your site longer if you have good navigation. It may help them locate what they're looking for and stay engaged with your content.
3. Make your website responsive
People will use a variety of devices to view your website, including desktop and laptop computers, tablets, and smartphones. You must ensure that they can all access and navigate your sites, and responsive design is the best method to accomplish so. Check out the SEO agency in Sydney for additional information about responsive design and how it works, as well as a variety of other topics.
Your website's responsive design guarantees that it adapts to the browsers and screen sizes used by your visitors. The surfing experience will be the same whether someone visits your website on a smartphone or a desktop computer. So, what's the big deal about this?
When you consider how you navigate a website, you'll notice that many of the buttons and links are sized to be utilized on a desktop computer. When you reduce the size of a website to fit on a mobile phone, the links and buttons become more difficult to utilize. This isn't an issue with responsive design because the site adapts to fit any device.
It's also crucial because people nowadays spend more time surfing on mobile devices than on desktop computers. This implies that a site that is exclusively designed for desktop users would disappoint a large portion of your prospective clients.
With responsive design, you can ensure that all of your visitors have a positive experience. This can lead to them spending a longer time on your site, which increases the number of pages they visit and the likelihood that they will convert.
4. Include visual elements
Your website will benefit greatly from visual aspects. It's the attention-getting aspects that keep people interested, and pages with visuals and photographs are far more enjoyable to explore than ones with mere text.
Incorporating relevant photographs and graphics throughout your written content is one of the simplest methods to add visual appeal to your site. These catch consumers' attention right away and encourage them to stay scrolling through your sites.
It's critical that the photographs you use are related to the text and your business. Stock photographs should be avoided if at all possible, as they can come off as generic, but they can be useful for demonstrating a point in a situation.
However, using photos of your employees, your work, and your products is a better option. This will provide your visitors with a genuine impression of your company. Another option for incorporating fascinating visuals is to engage with a designer to produce unique graphics or infographics.
Videos are one of the most powerful sources of visual information if you have the cash. Including one on a page may boost conversions by 86%! This makes them an excellent addition for boosting the amount of time potential consumers spend with your material, enhancing the performance of your website, and engaging visitors.
In fact, if you use video on your site, you're 53 times more likely to appear on the first page of Google results. This is because individuals spend more time on websites watching videos than reading material.
5. Look over your readability
Readability is an important aspect of web design that is sometimes underestimated. You might have a lot of useful material on your website, but if visitors can't read it, you won't be able to achieve your marketing objectives.
It is critical for users to be able to read the material on your website without difficulty. The first step is to ensure that the contrast between your text and background colours is sufficient. Your text will stand out and be easier to scan as a result of this.
The font is another crucial aspect of readability. Your font choice has a significant influence on how easy it is to read and skim your material, so use a simple, easy-to-read typeface.
While it's tempting to select "fun" typefaces, they're frequently difficult to read. For your body material, choose plain fonts and save the fancier ones for titles and headers. Even so, it's advisable to limit yourself to two or three distinct typefaces. Your website may appear busy and unpleasant if you use too many distinct fonts.
You may get a clean, coherent look by sticking to a minimal selection. Make sure that each typeface is large enough to read no matter where you use it. You'll lose users if the font is too tiny.
The readability of your website may have a significant influence on how consumers interact with it. It's also a simple repair, so if your site is tough to understand, a few simple changes might make a big impact.
That's all there is to it. To guarantee that your website satisfies industry standards and to give a better user experience that will ideally convert to greater conversions and help your business grow and become more successful, it is critical to master the best practices of web design.